A stunning retro vehicle tour in Prague
November 20, 2017
The moment you enter Prague's old-town, you'll come across many beautiful and impressive vehicles. If you've always dreamed of riding in a prestigious car, now's the time to fulfil that fantasy. Albeit we only took a 40-minute tour, I've got to say feeling like the rich and famous for even a short while feels really good 🙂
During our stay in Prague we've seen many retro-vehicle tour companies, but the one we chose had the most impressive car, we thought. We toured with Prague Old Car, having pre-ordered the tour. Seeing as we weren't staying at a central location, they met us at a predetermined meeting point they sent us in advance. If you're staying at a hotel in the middle of town, they'll pick you up straight from there.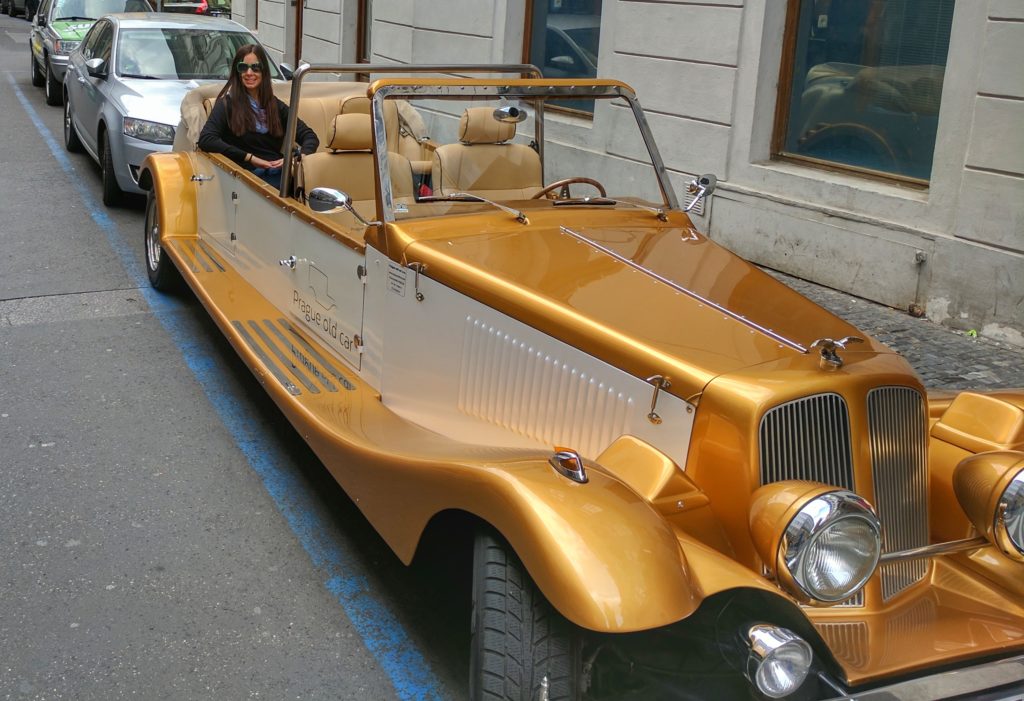 They offer two kinds of vehicles and several different tours. We took the 40-minute tour, which allows you to see the city's main sites. There's also an option to order a bottle of champagne and flowers ahead of time.
Our driver was really charming and told us about every place we drove by in a few sentences. The car being a convertible and the windy weather made him a bit difficult to hear (Would have helped if he had a microphone), but we were still able to make out what he was saying, and besides, the ride was so much fun. Honestly, we didn't want it to end.
At one point we stopped at the John Lennon graffiti wall and took a few photos.
We love incorporating the luxurious lifestyle in our travels and this tour definitely fits in with that niche. The hair flapping in the wind, the prestigious blankets, the hypnotizing vehicle and view of the romantic city of Prague all made us feel like the very rich.
The tour is reasonably priced when compared to what you're getting. It's good for 1 to 5 passengers, so if you're a group of friends or family you can all take the tour together.
I recommend asking for the car we got ahead of time.